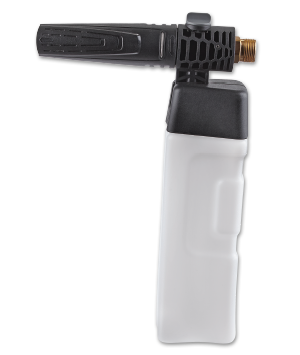 Model Number: 039-8704-8
The patented SIMONIZ Foam Blaster gives you a touchless car wash experience right in your driveway. Simply fill the bottle with the detergent, attach it to the spray gun, and coat the vehicle with dirt grabbing foam. The Foam Blaster spray head includes multiple spray patterns and an on-off switch for easily transitioning from detergent to water, making even the dirtiest jobs a breeze. The SIMONIZ Foam Blaster is also great for boats, RV's, windows, and many other jobs around the home.
VEHICLE

BOAT
WORKING WITH THE FOAM BLASTER
When using the Foam Blaster, always spray detergent on the surface to be cleaned when it is completely dry. A wet cleaning surface will dilute the detergent and reduce its effectiveness.
How to Use
1. Unscrew detergent bottle from the Foam Blaster.
2. Fill the detergent bottle with the desired amount of pressure washer detergent.
3. Fill the detergent bottle with water (for best results, use warm water).
4. Attach the detergent bottle to the Foam Blaster.
5. Attach the Foam Blaster to your pressure washer and start spraying foam!
WATCH VIDEO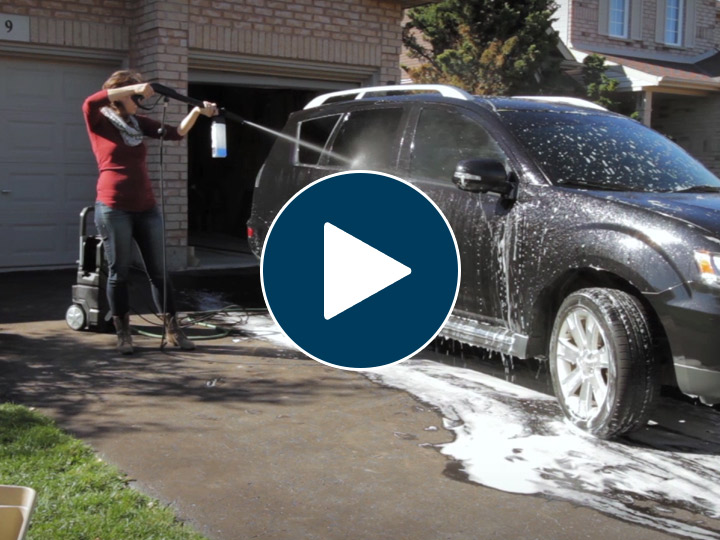 BENEFITS
Eco-Friendly
Using a pressure washer to clean your car reduces water consumption by up to 80% versus a standard garden hose without an automatic shutoff nozzle. Add in the SIMONIZ Foam Blaster and you have the perfect eco-friendly at-home car wash that conserves water and minimizes unnecessary grey water runoff.
Reduce Scratches & Swirl Marks
Scratches and swirl marks are often the result of incorrect washing equipment and techniques, which tend to compress fine dirt and grime into your car's paintwork resulting in a scratched, dull and neglected finish.
Pre-soaking your vehicle with the SIMONIZ Foam Blaster loosens dirt and reduces the likelihood of scratching from excessive rubbing and scrubbing.