Simoniz Platinum 3200 PSI Gas Pressure Washer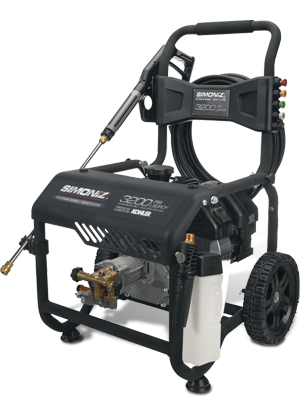 Model Number: 39-8056-0
HEAVY DUTY
The SIMONIZ PLATINUM 3200 PSI Pressure Washer is engineered to handle your toughest cleaning projects. Driven by a powerful Kohler SH series 196 cc gasoline engine this pressure washer is ideal for driveways, farm equipment, paint preparation, siding, decks, windows and much more. The dual on-board detergent tanks offers you the option of pre-soaking with detergent, which loosens dirt and allows the pressure washer to penetrate and remove dirt more effectively. Our patented foam blaster provides high-pressure soap application.
TECHNICAL SPECIFICATIONS
3200 PSI peak pressure / 2.6 GPM
8320 CU
6.5 HP (196 cc) OHV (overhead valve) Kohler engine
Heavy-duty, maintenance-free axial pump
84 lb 11 oz (38.4 kg)
SIDING

STAIRS

FENCING

DECK OR PATIO

SECOND STOREY

GARAGE FLOOR

DRIVEWAY

FARM EQUIPMENT

PAINT PREP
FEATURES
POWERED BY 6.5 HP (196cc) KOHLER ENGINE
Providing long-lasting, dependable power for your toughest jobs. This engine features an overhead valve design that delivers better fuel efficiency. A cast iron cylinder bore and steel forged crankshaft gives added protection under load. Dual ball bearings provide effortless starting, and dual oil fills and drains makes maintenance a breeze.
LEARN MORE
EXCLUSIVE SIMONIZ PLATINUM
METAL SPRAY GUN
This metal gun features a comfortable rubberized grip and trigger. A quick twist of the gun collar allows you to easily select between four application settings to set the right pressure for your cleaning project:
Detergent Setting – For applying detergent with the on-board detergent injection system.
High – Clean tough spots and grime on concrete surfaces, easily strip paint.
Medium – For general cleaning jobs like fence, deck, and siding washing.
Low – For low pressure tasks like cleaning cars, and patio furniture.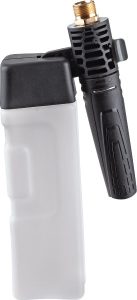 FOAM BLASTER
The patented SIMONIZ Foam Blaster gives you a touchless car wash experience right in your driveway. Simply fill the bottle with the detergent, attach it to the spray gun, and coat the vehicle with dirt grabbing foam. The Foam Blaster spray head includes multiple spray patterns and an on-off switch for easily transitioning from detergent to water, making even the dirtiest jobs a breeze. The SIMONIZ Foam Blaster is also great for boats, RV's, windows, and many other jobs around the home.
LEARN MORE