HOW TO REPLACE THE THERMAL RELIEF VALVE ON A GAS-ENGINE PRESSURE WASHER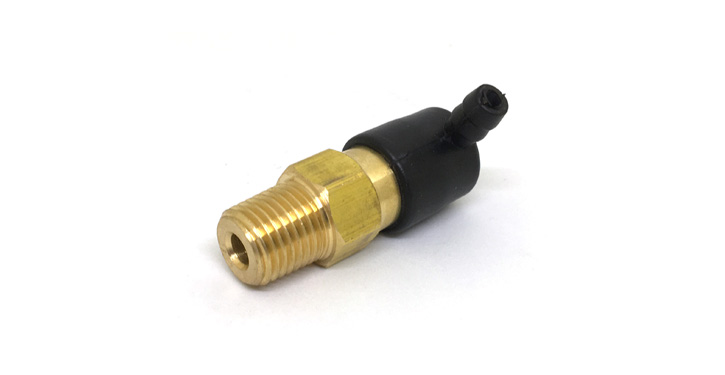 The gas-engine pressure washer's thermal relief valve helps protect the pressure washer's pump against thermal damage. When the rated water temperature is exceeded, the thermal relief valve automatically discharges the hot water onto the ground and lets in the new cooler water. When the cool water enters the pump, it helps cool down the engine.
The best prevention from adding stress to the thermal relief valve by not letting the engine run for more than 5 minutes without pressing the pressure washer gun's trigger.
Replace the thermal relieve valve if it constantly discharges the water onto the ground or if it the valves don't close properly.
Follow this easy-to-follow instruction guide to learn how to replace the thermal relief valve on your SIMONIZ gas-engine pressure washer.
Specific model instructions and parts required for:
SIMONIZ 2700 PSI (Model: 039-8055-2/UG01)
SIMONIZ 3200 PSI (Model: 039-8056-0/XG01)
Tools/Materials Required:
Repair Difficulty:
WARNING: BEFORE YOU START
Accidental starts can cause serious injury or death. Before performing repair, make sure machine is OFF and disable engine by disconnecting spark plug wire.
HOT PARTS CAN CAUSE SEVERE BURNS. DO NOT TOUCH ENGINE WHILE OPERATING, OR JUST AFTER STOPPING. Work on a LEVEL and FLAT surface.
STEP 1: GETTING STARTED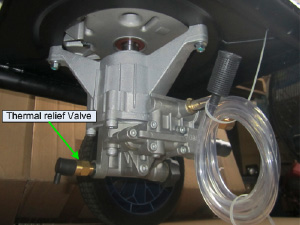 Locate the thermal relief valve on your gas-engine pressure washer's pump.
Remove the black rubber cap from the thermal relief valve by simply sliding it off by hand.
STEP 2: REPLACING THE THERMAL RELIEF VALVE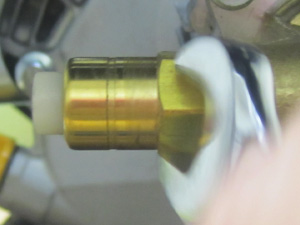 Use a wrench to remove the thermal relief valve by turning it counter-clockwise.
Follow the steps in reverse order to assemble the new thermal relief valve and re-attach the black rubber cap.